I apologize for being so late but I am finally able my translation + commentary of "Mushi no ballad", the song that ranked first in the poll!
If you have never watched Sayaka perform this song, do yourself a favour: read the lyrics and then click on that youtube link and get ready to be blown away. This song is just beyond the idol world.
"Mushi no ballad"
(
A bug's ballad
)
(from Team K 5th stage "Saka agari")
Team K (Akimoto Sayaka)
words
: Akimoto Yasushi
music
: Tago Kunio
point of view
: male first person and language
theme
: fighting song
original lyrics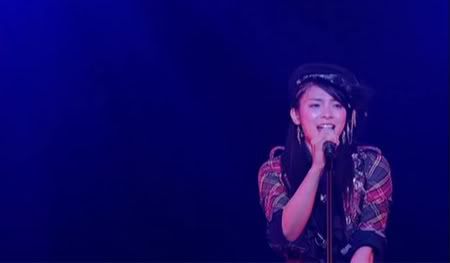 listen to Mushi no ballad on youtube
Alone under the pouring rain
I wanted it to hit me and get me soaking wet
I was trying to wash away
My dirty body and my ugly heart

What am I supposed to believe in
To live through this age?
I ask myself,
But there's no answer

I am not afraid of being hurt
No matter how hard my road is
I am insignificant
Falling down on my knees
I'll just turn into a bug

The wind makes me fall down
But I have to get out of the mud
I recklessly groveled
Beautiful things
Are things that have been washed
By sweat and tears

What is true?
What is fake?
Even if I think about it
If I take a shortcut I won't find the answer

I don't lament the fact I'm going to die
No matter how long eternity is
I am clumsy but I won't look back
I'll just turn into an earnest bug

As long as I live
I don't care if I'm unsightly
On this ground I'm screaming out my soul
I will cling onto the fact I'm alive

I am not afraid of being hurt
No matter how hard my road is
I am insignificant
Falling down on my knees
I'll just turn into a bug
Comment
I think I haven't done much justice to this song with my translation. I am not very confident in the correctness of my English grammar here so any correction will be welcome.
"Mushi no ballad" is a solo song, sung by Akimoto Sayaka. At that time, the only other solo song ever existed was Oshima Yuko's "Naki nagara hohoende" and even now solo songs are not that common, so the fact that she got to do it despite not being a hugely popular member like Yuko really says something about Sayaka's potential and talent.
The lyrics use the male pronoun "ore", which is rather unusual for songs sung by girls (they rather use "boku" when it comes to songs sung in a male point of view). It's grammatically very strong and assertive, matching the theme of the song.
For once, the theme is not "let's do our best to reach our dreams". The main character of this song is portrayed as he struggles to be alive at all. He appears to be having a very hard time, "groveling in the mud", but he still he doesn't give up on life, whatever it takes. He will "cling onto life" even if it means to suffer, even if it means to become an unsightly bug. It's a powerful song, full of emotion. It might not have a difficult dance routine, but it takes a lot of skill to sing it, to convey the lyrics into a convincing performance. Simply, Sayaka has that.
The song has been performed by other members as well, with various results, during shuffle concerts and when Sayaka was absent from theatre performances, but this is Sayaka's song all the way. Even a great singer like Masuda Yuka (who technically outshines Sayaka) couldn't put as much emotion into
her performance
as Sayaka does.